How to Use the Toyota Electronic Parking Brake and Brake Hold
Toyota is constantly improving its vehicle lineup to make driving safer. Beginning with the 2018 model year, the manufacturer included an electronic parking brake (EPB) system on the C-HR and Camry, XSE, XLE and hybrid models. This new system works differently than traditional parking brakes, which used a lever or foot pedal to secure the vehicle. Here's how this new technology works.
Setting the Brake
As with many of the other systems in newer Toyota, the electronic parking brake uses a button. All you need to do to set the brake is pull the button up. An indicator light will illuminate to show that the brake is active. To release it, push the button down again. It's that simple.
Advanced Operation
You can also program the electronic parking brake to work automatically based on your vehicle's shifting position. To activate this mode, pull up the EPB button and hold it until you see a message appearing on your vehicle's multi-information display. When you see this message, you will have set the braking system to engage automatically whenever your vehicle is in park. It will automatically disengage when you shift your vehicle out of park. Deactivating the automatic mode is simple too. Just hold down the EPB button until you see a message on the display screen.
Brake Hold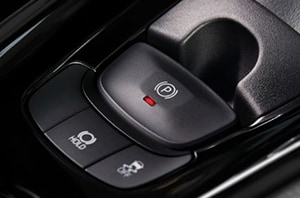 Brake Hold is another feature that comes with this system. What this feature does is automatically hold braking for you when you come to a complete stop and keep holding it until you press the accelerator once again. Brake Hold is always inactive when you start your vehicle, so you must activate it.
To activate Brake Hold, located the hold button that's above the EPB button and press it when you're stopped with the brake pedal depressed. a green light will illuminate that show that Brake Hold is in standby. The light turns to yellow when it actively holds the brakes.
Note that Brake Hold will not engage under several different situations, such as when your vehicle is in park or reverse, the driver's door is opened or the driver's seatbelt is unfastened. When Brake Hold is engaged for three minutes, the system will automatically switch over to the Electronic Park system. For the most part, Brake Hold will remain turned on until you manually turn it off or when you shut off your vehicle.
If you would like to experience EPB or Brake Hold in action, come into North Park Toyota and take a test drive of one of our C-HR or Camry models. Our staff will be happy to further explain these and other features and help you select your new Toyota.