Where Can I Trade In My Car Near San Antonio?
The saying "out with the old, in with the new" applies to many things, including cars. If you've been thinking of getting a new Toyota, now is a better time than any. Among our specials for auto financing is the opportunity to trade in your current vehicle for a new car. What does that mean? Trading in your car means that you first get an estimate for your car's current worth to figure out how much you'll be able to get for it. After we make an offer for your car, you can browse our large inventory of new and used cars to find one that you'd like to drive home. Provided you bring the title to your current car with you, you may even be able to finalize the paperwork and drive home with a new car that same day!
Even though you have your car's title, you might be thinking, won't you be denied the opportunity to trade your car in if you're still paying for it? Fortunately, the answer is no, you are still eligible for buying a new car even if you have a loan or lease balance remaining on your existing vehicle. The credit that we give you for your current vehicle can be used to pay down the loan or lease. If your car's trade-in value covers it, you might even be able to pay off the entire loan. But even if the credit falls short of paying off your loan completely, you can simply roll the remaining credit balance into the loan for your new car. This means you'll still be able to make monthly car payments and start driving the vehicle you want when you want.
How Much Is My Car Worth?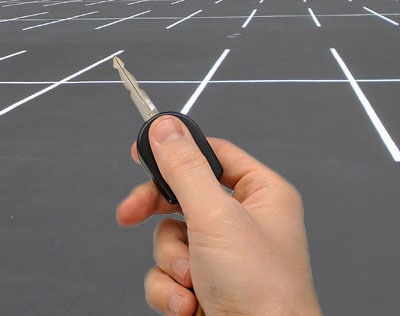 Deciding that you'd like to swap out your old car for a newer one is the first step towards getting a new car. The next is sitting down and figuring out what your car's current value is. This part involves many factors such as the car's production year, the mileage on the odometer, the model, trim level, and any luxury features or special packages it has that might increase its value. Determining your car's worth based on all these variables sounds intimidating, but we make it easy.
You can simply use the online calculator to figure out how much your car is worth. As you proceed, we recommend being as specific as possible to get the most accurate estimate of your vehicle's current value. If you have questions or need assistance, don't hesitate to reach out. Our knowledgeable staff is available to help you navigate the quote calculator and answer any questions you have about a trade-in. While you're on the site, take a look at our inventory, which is available online, to see what car you might want to trade yours in for.
What Can I Trade My Car In For?
Once you've got a good idea of how much money you might be able to put towards a new car, it's time to check out the inventory. We offer a large selection of premium new and used vehicles to help give consumers a variety of choices. If you see a model that catches your eye, such as the head-turning Highlander, the fuel-efficient Prius, the workhorse Tacoma or more, just let us know when you want to come in for a test drive. But even if you don't see your dream car in stock, check back frequently, as it may be here tomorrow!
Get an instant trade-in value on your current vehicle before you even set foot at our dealership. You can use the value calculated with this tool in your online Prequalification, or Finance Application.
Redeem your quote at our dealership and get cash or trade in today!