Toyota Transmission Repair and Maintenance in San Antonio, TX
Toyota vehicles are built with reliability and longevity in mind. However, even quality parts that are assembled expertly require periodic maintenance work. The transmission is an area of the vehicle that is easy to overlook when you are scheduling periodic maintenance service, but it is nonetheless an essential system that needs to receive care on a regular basis. In fact, the transmission system in your Toyota is responsible for controlling the torque and power output of the engine. When transmission problems develop, your car may not function properly, or it may not operate at all. As you can imagine, dealing with transmission repair issues can be frustrating and stressful, but you can easily reduce the chance of having to deal with a serious transmission issue by scheduling regular maintenance work with our service center.
When Do I Need to Change the Fluid in My Toyota's Transmission?
Each make and model is different, and you should always refer to your vehicle's ownership manual for specific maintenance requirements related to your vehicle. Our Toyota service team can also give you personalized insight about the condition of your transmission fluid and the need for service currently. One way that we can do this is by looking at the consistency and color of the transmission fluid. Thick, murky fluid should be replaced as soon as possible. A smart guideline to use as a rule of thumb is to change or flush the fluid approximately every 45,000 miles or three years.
Is There a Major Difference Between Flushing and Changing the Transmission Fluid?

Before you schedule transmission fluid service with our team, you may be wondering if you need a transmission fluid flush or a fluid change. You may even be wondering if these are the same services. A fluid change removes transmission fluid from the pan, but some of the dirty, older fluid will remain in the system. A transmission fluid flush removes all of the older fluid, and this includes draining it from the pan, the torque converter and the cooler lines. In both cases, the transmission filter is usually replaced. Depending on the current condition of your fluid and how frequently you service this component in your Toyota, one service may be more preferential to you than the other one. For example, if the fluid is very dirty and if you know that you do not stay on top of this service regularly, a full fluid change could be a smart idea.
How Can I Tell When My Toyota Needs Transmission Repair and Maintenance?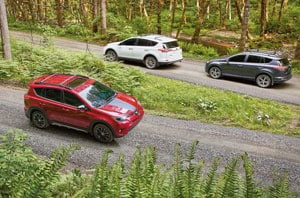 A transmission fluid flush or fluid change is only one type of service that may be required over the years. This is a great way to maintain the transmission, but even with stellar maintenance efforts, some repair issues can develop with increased age and regular use of the car. Transmission service may be needed if the "check engine" indicator light turns on, if a burning odor is noticed when the engine is on, when transmission fluid is leaking from the vehicle or when the car's movement is jerky when it changes gears. Regardless of whether you need to schedule maintenance or repair work for your vehicle's transmission, now is a great time to contact us for a service appointment.