The Right Choice For Any Adventure
The phrase "built for the weekend escape" is the tagline for the 2019 Toyota RAV4 Adventure. Toyota knows that some folks like to escape to places that aren't on your typical road map, and they built the Adventure precisely for those people. You might be wondering what sets the Adventure apart and makes it the perfect off-roading vehicle. We'll take a look at the many features it has that makes it the perfect off-roading machine.
Why Hit the Road in an Adventure
First things first: The Adventure is a gorgeous vehicle. And who says you don't need style to go off-road? Constructed to be handsome and sporty, the vehicle comes in stylish colors like Blizzard Pearl, Ruby Flare Pearl, and Electric Storm Blue, to name just a few. But looks won't get you anywhere once you hit the trails. Here's just a few of the reasons you'll forget all about that gorgeous SUV you bought once you hit the trails and see that there's a lot more to this book than its cover.
18" 5-spoke Black Alloy Wheels
If you're hitting the trails, you need to have some serious tires to carry you there, and the tires on the Adventure are certainly what you'd call "Adventure Grade." The vehicle is equipped with 235/55R18 tires for an out of this world off-road performance.
Lower Valance Panels
If you are planning an excursion, you're going to appreciate the lower valance panels on the Rav5 Adventure.
Ground-clearance
Nix the standard 6.1 inch ground clearance and up that to 6.5 inches, and you've got a recipe for superb off-roading experiences. Toyota thought of everything when they created this one.
Black Roof Rails
Most folks who go off-roading need roof rails so that they can take their gear along with them when they come. Not only are they capable of handling heavy gear, but they're versatile to accommodate any kind of gear you might have.
Leather shift knob
The road outside gets a lot easier when you have comfortable interior features to make you the captain of your own cozy ship. No matter what the rugged road ahead holds in front of you, you've got the comfort of a leather-wrapped shift knob to make your job as the pilot a lot easier.
Powertrain
The Adventure comes with a powerful 2.5L 4-cylinder engine with all-wheel drive for the challenging roads ahead. It's coupled with a 6-speed automatic transmission for smooth transitions during all your adventures. The all-wheel drive also comes with the remarkably handy torque control system. You'll get 176 horsepower and 172 lbs-ft of torque.
You Have To Drive It To Believe It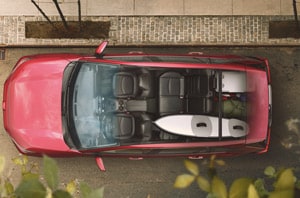 Reading about the Adventure is a lot of fun. You get a sneak glance at what you're going to love about the vehicle. You're never going to know what it feels like to drive one until you schedule your first test drive, and we'd love to help you get behind the wheel of the Adventure so that you know all the fun times ahead of you if you buy one. Call or come into our dealer in San Antonio for more info and a test drive.